Bullets Poker Clock:
4 Reasons Pro Poker
Events Trust Us
· Total Mobile Control
· Instant Setup
· Easy + Secure
· Crafted by Poker Pros for

Poker Pros!
Super Easy and Fast Setup.
Remote Control From Everywhere!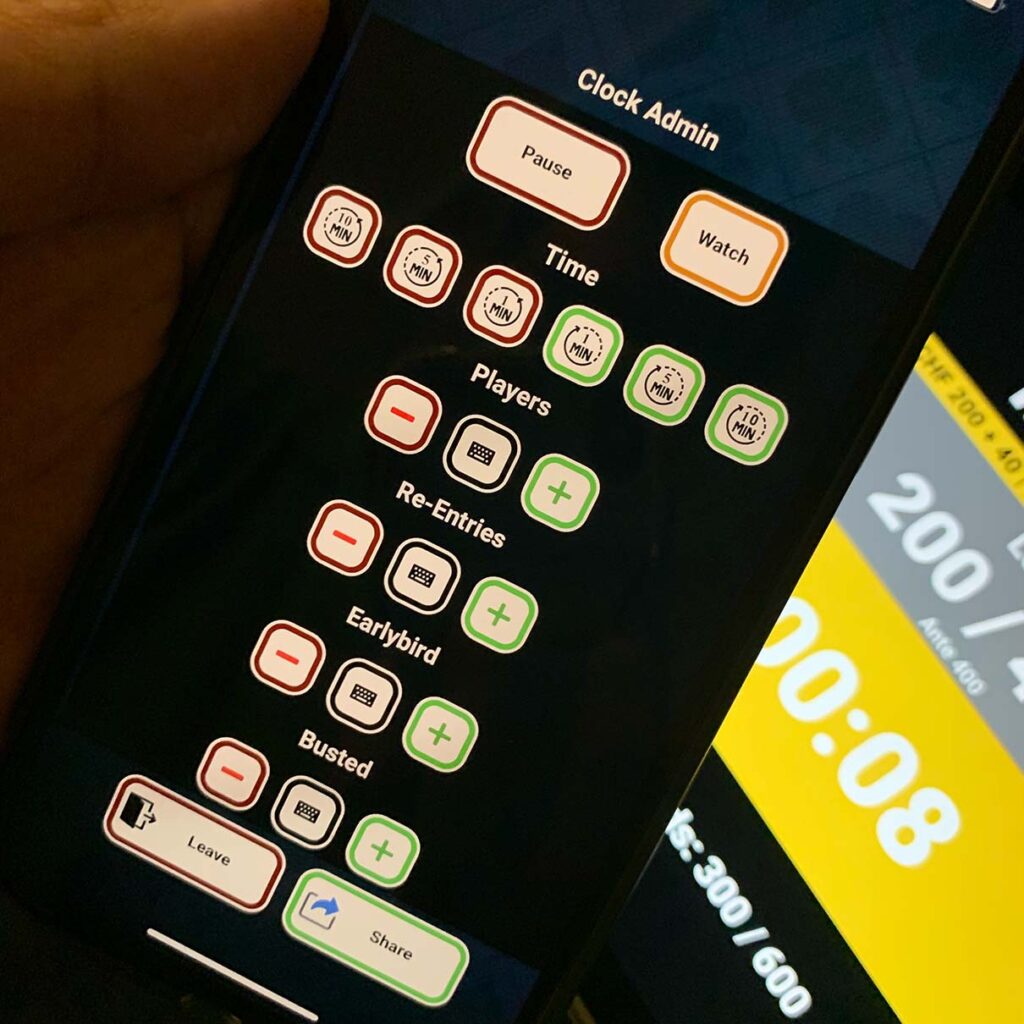 Floorman & Tournament Director Dashboard:
Pause/Resume: Easily halt or continue the game flow.
Time Control: Rewind or fast-forward the tournament clock.
Manage Players: Add or remove participants on-the-fly.
Reentries: Seamlessly handle players re-buying into the tournament.
Earlybird Options:Toggle special early player features.
Busting Players: Efficiently mark players exiting the tournament.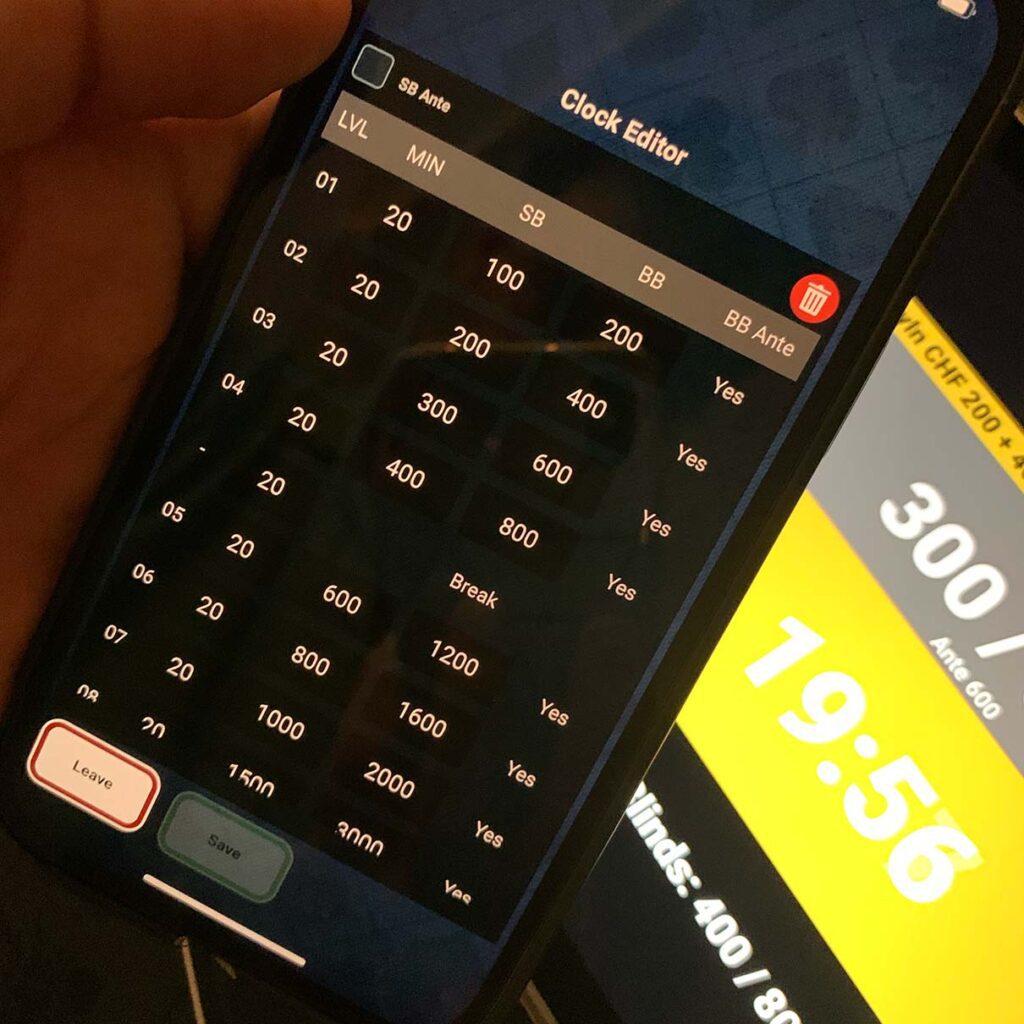 Blind Configuration Overview:
Ante Selection: Choose from No-Ante, SmallBlind-Ante, or BigBlind-Ante.
Blind Structure Templates: Load & save structures within seconds.
Add Breaks: Easily integrate pauses into your tournament flow.
Real-time Adjustments: Whether it's inserting an extra break or appending an additional level, modifications are hassle-free.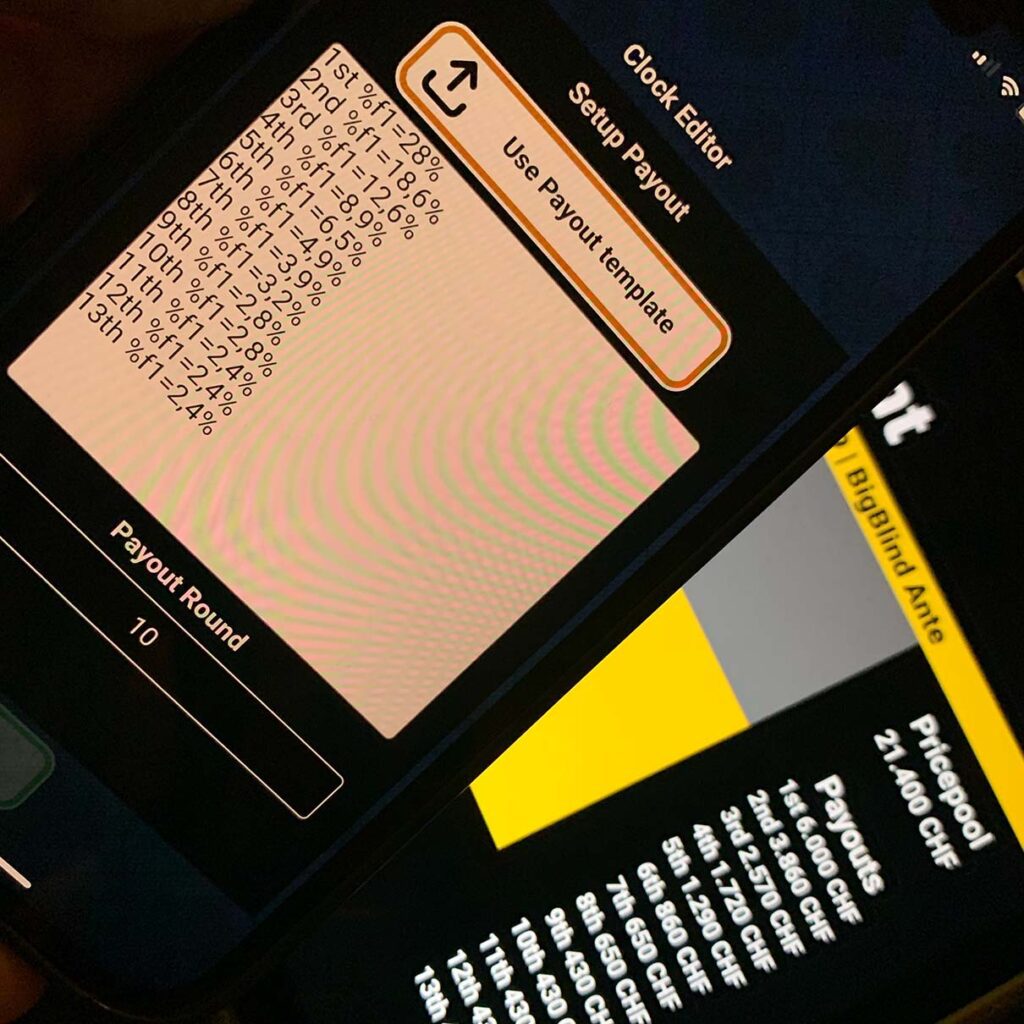 Payout Table Editing Overview:
Percentage-Based Payouts: Select payout shapes based on percentages.
Rounding Options: Round off values for cleaner presentation.
Custom Text Entries: Tailor payouts with specific text, perfect for unique rewards like "1st 130 CHF Seat, 2nd 130 CHF Seat" in Freeroll tournaments.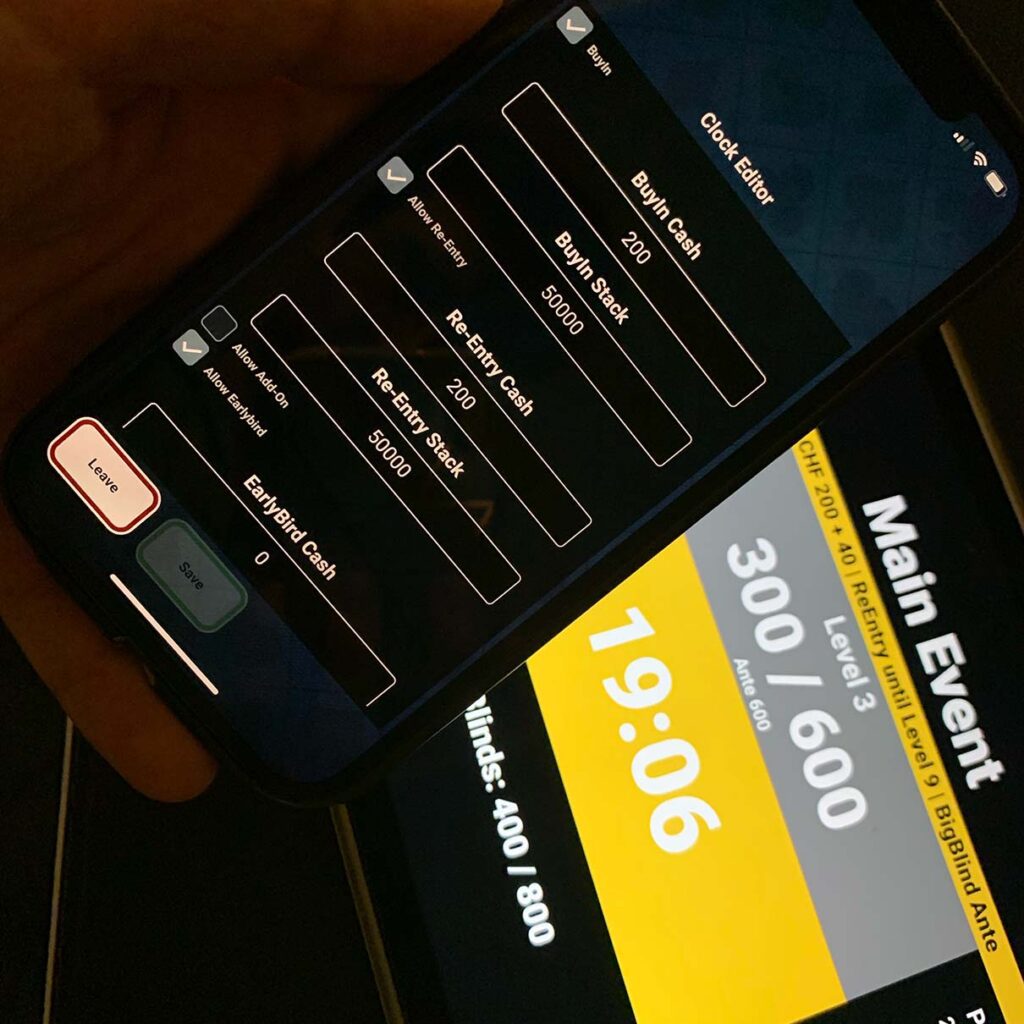 BuyIn Values Configuration Overview:
BuyIn: Offer players straightforward entry without additional charges.
Stack Size: Determine the stack size players receive for their BuyIn.
Re-Entry Configuration: Easily set values for players buying back into the tournament.
Add On & Early Birds: Tailor settings for additional chip purchases and early player benefits.
Accurate Prizepool Calculation: From all input values, the prizepool is always correctly computed.
An excerpt of professional poker clubs that trust in us
What Poker Club Owners Say About the Bullets Poker Clock
Frequently Asked Questions
Is an internet connection needed?
Yes, the Clock runs on our highly available & secure servers in the cloud at Amazon Web Services. However, you don't need to worry about the stability of your internet connection. The Clock will continue to run smoothly even if your internet lets you down. You can make changes again once your internet is back up and running.
Do i need to install software?
Not necessarily. You can use the Clock entirely without installation in your browser via https://clock.bullets.poker . However, for convenience, you can also use our apps for Android and iOS.
What if the internet connection is interrupted?
No worries! The Clock will continue to run smoothly even if your internet connection is interrupted. You'll be able to make changes again once your internet is back up and running.
If I buy a license, will I have to pay for upgrades?
No. Everything that will come in the future is included.
Can I use the Bullets Poker Clock on various devices, including a Mac?
Absolutely! The Bullets Poker Clock is designed for versatility and can be used on a range of devices including smartphones, tablets, PCs, and even on your SmartTV using the browser. Not only that, but you can also control the Clock from multiple devices simultaneously, regardless of which device is displaying the Clock, ensuring seamless management of your poker events across all platforms.
Can I make changes to the settings during an ongoing tournament?
Absolutely! You can modify all settings at any time, whether it's during a tournament or beforehand. Tournaments can be preset and saved, allowing you to set up a Clock within seconds.
Is there a trial or free version of the Bullets Poker Clock?
Indeed, you can use the Clock entirely for free! However, some premium features, such as customizing your own design with your logos or saving spaces for tournaments and blind structures, do come at a cost. Unfortunately, we can't live on air and love alone – as nice as that would be 🙂
I accidentally busted a player. How can I correct this?
No worries! You can easily undo the action by clicking the "Minus" button next to "busted."
How many players can I enter into my tournament?
At the moment we do have a limitation of 9999 players. But that can be removed on demand. Please contact us for that.
Bullets Poker Clock Live in Clubs